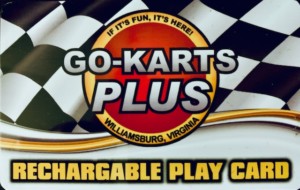 GO-KARTS PLUS offers two convenient options to ride.
In additional to our All-You-Can-Ride Wristbands, we also offer our new "Play & Ride" cards that are used on all the games in our arcade and on all our rides as well as Gold Rush Golf.   The more credits you buy, the more bonus credits you earn.
With our "Play and Ride" card, arcade games require 1-4 credits.  Our major rides require 9-16 credits per person, per ride.  Children riding as passengers require 2 credits per ride.   Kiddieland rides require 5 credits per child per ride.  Gold Rush Mini Golf requires 18 tickets per person per game.
50 CREDITS + 5 BONUS CREDITS
100 CREDITS + 25 BONUS CREDITS
200 CREDITS + 75 BONUS CREDITS
DETAILS
 Gemstone Panning and the Snack Bar are priced separately and are not included in the above options. Height requirements apply.